Good morning & a very happy Monday to all!
Today we have a very talented crafter over at our blog, who plays along our challenges regularly. She has a post packed with information & also a video for us. Please welcome Zalak -
First of all i really want to Thank you for giving me this opportunity to design and show some of my creativity through your blog.
I hope you will really enjoy and like my tutorial. So lets get start.
1. Tell us a little about yourself and your family.
I am from an Ahmedabad city, graduate with Computer Application Degree. Was a working woman but now a successful housewife. I am blessed with a very supportive family and in-laws too. Wife to a Aircraft Maintenance Engineer and we have one cute little daughter, she one and half year old and let me tell you she is so much curious to do work with me when i experiment with my tools, and finally she mess all my craft area.
2. How did you become interested in crafts and what inspired you to start blogging?
As you know every child is in someway an artist but i got this gift from my dad as he is a painter and now he is a Studio Designer. So i used to do sketches, painting. I was also rewarded in intermediate level painting. And then now after marriage we have shifted to other city and i found much time to involve in my hobbies again so i started making cards for my husband and he encouraged me a lot so i slowly learnt much more by practicing varieties of cards to bring my own emotions of love, affection and best of my thoughts in cards.
About blogging, i started when many of my family members liked and then i went online to see how much my creation get response and i was amazed with it. People loved it and encouraged me for more craft ideas and techniques.
3. What are some of your "go-to" supplies for crafting?
Oh its a long list but most of them are My trim and score board, Envelope board, pair of scissors, and of course my favorite pen and pencil.
4. What is your favorite crafting technique?
Quilling is my first start towards crafting but once you start and experiment with watercolors, inks, embossing paste and powder etc...then you just cant stop yourself for more and more of these.
5. How would you describe your crafting style?
My crafting style is i want my project to be simple with detailed and perfect work.
6. How long have you been crafting?
There has always been some short of crafting i have been doing so cant say exactly.
Different style of cards where you can put your emotions and feelings together.
8. Who are some of your influences? Who has been your inspiration?
I have a long list but first two are my dad and a loving husband. I follow lot of artist few are Jennifer McGuire, chari moss, Brandy cox and many more. and husband.
9. When not crafting , what keeps you busy?
When not crafting i am fully dedicated to my daughter.
10. What are you currently working on?
I am currently working on twist of watercolor and embossing techniques.
Lets get start with the tutorial i have made for you guys. Hope you enjoy.
Tutorial:
Today I am sharing a beautiful card on this month challenge theme. As you all heard about Explosion box so i have just tried my hands with little bit techniques of embossing and a explosion card. Yes…. You heard right i am sharing an Explosion card with embossing techniques. So here you go…
At first glance you might think this is a simple card. Well that's the plan so that once its opened you get a surprise when it folds out.
Another view. It really is very simple to make. The actual folding part is very quick to do and how long you spend making it would depend completely on how detailed you wanted to make the design inside or out.
So here are few base steps to make this card.
Step 1: you will need one 8 1/2 square white paper (i have used watercolor paper, you can use as per your project), one 10×5 inches cardstock and fold in half, and one 5×5 inch cardstock (again i have used watercolor paper to use embossing technique)
Step 2
: for embossing technique
I have used small pattern rubber stamp, first stamp it with versamark ink and then apply clear embossing powder on it, you can tap back side of paper to remove excess powder. Then you need to melt embossing powder with heat gun, once it melts you can apply any Distress Ink (i have used pickled raspberry). Then here comes the fun part, take your mister and mix some perfect pearl powder in it and shake well to mix it properly, then spray on cardstock as many times you want (i sprayed it at least 10 times and when it still wet i took dry tissue paper and dab it some spots to remove ink). Now it times to wait till it dry. Please note at this time do not use your heat gun to dry ink fast as it may start melting your embossing powder.
Steps 2.1: (optional, but i think you should try) when ink completely dry you can take your iron, put your cardstock in between of two blank A4 paper and just iron your card at least 2-3 times by changing upper A4 paper, it will start melting your powder, remove excessive ink and it will shine as we have used perfect pearl.
Step 3: for explosion card
Now take your 8 1/2 square paper. Design your card (i have design it as per this month challenge theme with watercolor and distress ink). Once you satisfied with your project, its time to convert it into explosion. Follow below image.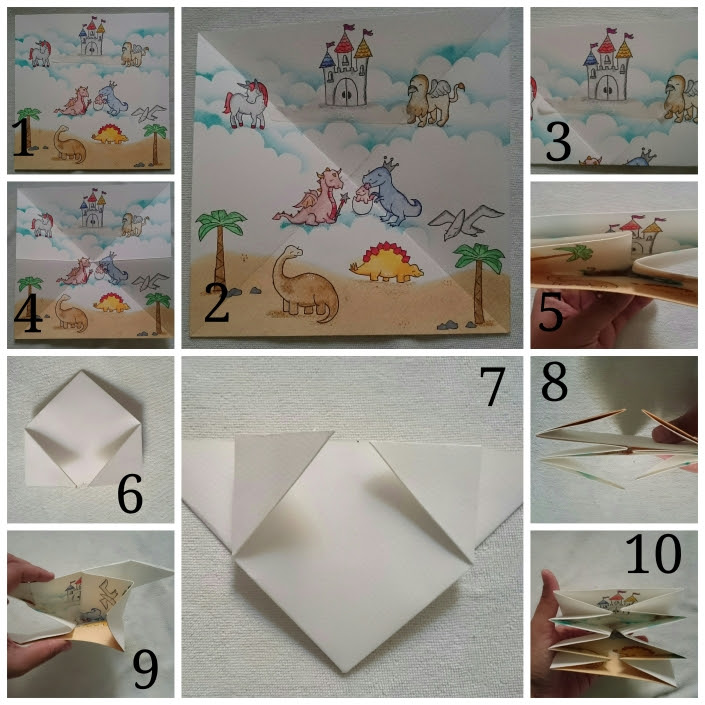 Image says (1,2) fold your card diagonally so you will get X shape card. (3) flip your card, your card should facing back side up. Now take your card and fold it like down to up side, so you will get X shape with horizontal line. (4) open all flaps, now you have your card in a square shape with X and horizontal lines. (5) when you fold your card (design facing top side) you will see it will automatically fold and gives you upside down triangle 🔻. (6) you need to take ruler and mark at 4 1/4 both sides. (7) now pay attention, take your triangle right side corner and fold outside till you mark. Same you do it for left side also. (8) follow step 7. (9) now open all small triangles which u just folded and fold other side (i.e inside). And open it too. Now you are back with upside down triangle but with folded vertical lines. (10) now push all small triangles inside and secure it with bone folder. And here you go your explosion card fold is ready. You can see video for more clarification.
Step 4: Now you can decorate it with embellishments. Always decorate after folds because now you can see where to put embellishments. (i have not decorate it with more embellishments as i want to highlight my theme.)
Step 5: adhere it to your 10×5 inch flip top card. Adhere it from where your card folds like below image.
And your explosion card is ready. You can add as much detail or keep it as casual as you like. I hope I've inspired you to give this a try, it makes a really fun card.
Thank you so much Zalak for sharing so many techniques with us!
Cheers,
Tanvi